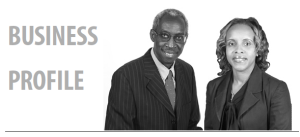 The following article appeared in the BVI Beacon on February 20, 2013.
SABALS law firm opened its doors on Feb. 4 with Mr. Bennett as the senior partner and Ms. Smith as the managing partner. Together with an associate lawyer, Corine George, and five other staff members, the firm focuses on commercial and civil litigation.
Can you begin by telling me why you started the firm?
Bennett: Our initial motivation for starting the business was we had certain ideas that we toward client service, of a firm that was oriented toward client service, because we see that as one of the major areas of complaint (in the community) and an opportunity to address. What we did, we chose our staff with a view towards that orientation.
How long have you both been practising law, and how did you get started?
Smith: I've been in the field for over 18 years. I started out as a legal secretary to get my feet wet, to check out the field and see if it was something I wanted to pursue. Then, I went off to study law in England, and I've been practising law for the past 11 years in the BVI.

Bennett: I was called to the bar in 1980. I practised for nine years in St. Lucia. I came here in 1989. This will be the 24th year in June. I became a Queen's Counsel in 2003.
How does the slow recovery in demand for company incorporation services affect your firm's commercial law work?
Bennett: (Commercial work) is something we intend to focus on very intensely. What I see is when the economy changes, it changes the character of the work. The fact is that you need lawyers in bad times as well.

Smith: The commercial work will be there. Commercial work is our target and that's what we're geared towards. But we also have banking, we have construction, we have property. So commercial is just one aspect that we are focusing on. But it's not the only.
You spoke earlier about the goal of improving client service. Could you give an example?
Smith: In legal work, you tend to get so zoned in on the legal aspect of it that you can actually isolate your client. It happens. I can summarise it in simple words: While doing the legal work, we're looking at responsiveness to clients, accessibility to clients, transparency in terms of billing, etcetera.

Bennett: We can summarise it by saying that ideally we want to deliver the type of legal service that we would want delivered to us.
Why do you enjoy what you do?
Bennett: The thing is that if you don't really enjoy what you do, it's hard to do it well because of the kind of obsession to detail that you need to compete. You can't be pushed: You have to be pulled.

Smith: Liking what you do attracts commitment. It attracts quality. Me personally, I love interacting with people, and I love knowing that I can be of assistance in this way to people.
What advice have you received that you'd like to on to a young person just getting started in business?
Smith: Know your business inside out. Research your business inside out. More importantly, make sure you have some love for whatever that business is because that will attract, one, knowledge you need to run the business and, two, the commitment you need to make that business successful. The final thing I would say is pay very keen attention to who you choose to work in that business because those are the people you're relying on to try and sell that product.

Bennett: If there's on thing which I learnt early on, when I was setting out, it's the art of listening. Learn to listen actively. It took me a long time to completely understand how fundamental that is.
Interview conducted, condensed and edited by Jason Smith.